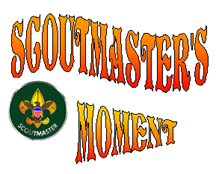 Message from Bruce Hotte
Troop 96 Scoutmaster

Welcome to the Boy Scout Troop 96 Internet Web site--
Our site is one of many ways in which we are communicating with you in helping Scouts and Scouters to live in accordance with the principles of the Scout oath and law, and to achieve our goals of good citizenship, character, leadership and love of God and others.
As Scouts, we see the troop as our team. But the troop can only act through its Scouts and adult volunteers. We think of you as important member of the team and all of us are here to serve others. We offer not only a Scout program that is rich in tradition and loyal to the ideals of Scouting, but also a place where you scouts can grow to be good men. Scouting is a place where mistakes are forgiven and where there exists a commitment for an improved tomorrow. Troop 96 also serves as a place for monthly outings such as camping, hiking, backpacking, and canoeing and where ideas, fun, fellowship and reverence toward God are shared.
I believe that Troop 96 is one of the best Scout troops. We have been chartered for 49 years with a tradition of excellence and service. We are a boy-run Scout troop. We are dedicated to having an organization that assists young men achieve the highest rank in scouting. During our history we have had 73 of our Scouts achieve the rank of Eagle.
This web site is just a part of an effort to make you and Troop 96 better. Effective communication is an essential requirement for success. Please use this site often and make proposals for its improvement.
Thank you for your interest and participation in Scouting.

Bruce Hotte
Scoutmaster

---